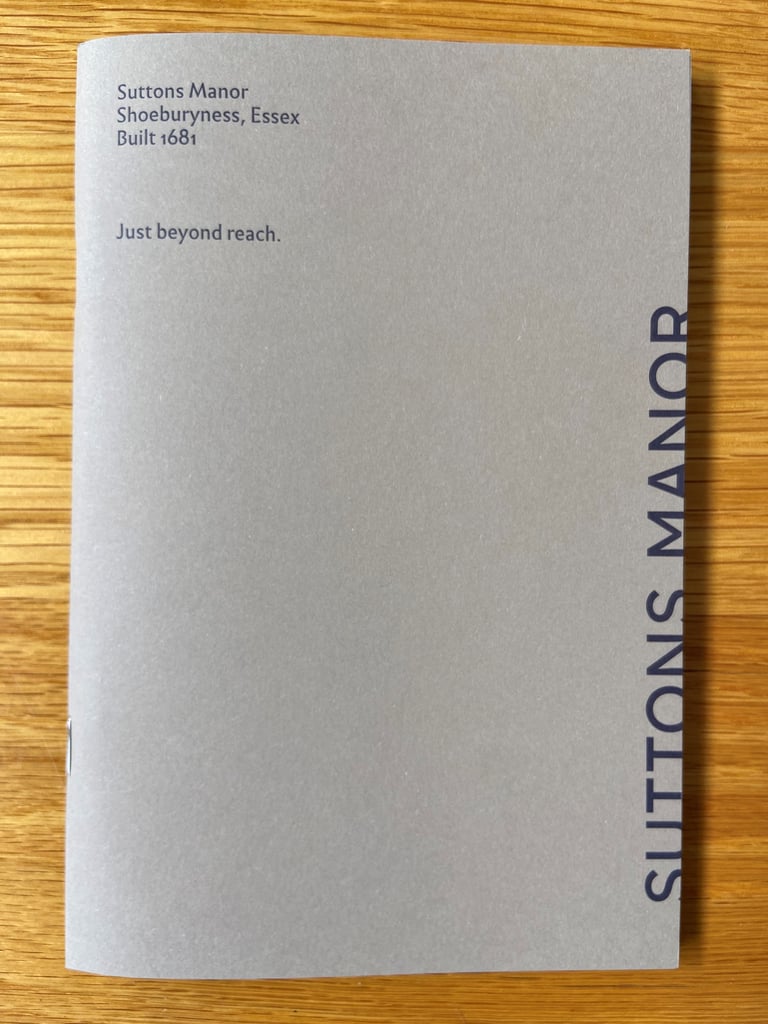 Sutton Manor: Just beyond reach
This booklet is FREE - the small charge is to cover postage and packing.
Suttons Manor is one of the oldest houses in Southend. Historic and imposing it was built in 1681 but now stands in isolated grandeur; proud and inaccessible behind perimeter fencing on MOD land at Shoeburyness.
Estuary 2021 in partnership with Essex Book Festival, commissioned four contemporary writers, Amina Atiq, Season Butler, Alison Moore and Martha Pailing to create new work in response to this intriguing estuary site and history.
As a Grade II* listed structure, the house is protected heritage. However, its situation means that it is beyond the reach of public attention and use. Not many people even know the house is there and very little information exists in the public realm about the history of this house. Who lived in it; why it was built; what the community was like that surrounded it 340 years ago; their relationship to the nearby estuary – just a short walk from their door.
It is a seemingly suspended place – in time, in history and with its future unwritten.
A site visit was agreed with the MOD for Tuesday 24 March 2020 for all four writers to visit, then the first Covid-19 Lockdown was announced by the Prime Minister at 8pm on Monday 23 March, meaning that visit was unable to take place. All the writers agreed to continue with the commission, building in this further layer of remoteness and inaccessibility with the inevitable sense of invisible jeopardy and uncertainty that grew as the pandemic took hold as a reality.
The works in poetry and prose, bring the house to life with metaphor and implied meaning; whispers of imagined lives led; teeming life force thriving without human disturbance; dramatic, surreal, hum-drum, joyful and illicit – Suttons Manor has undoubtedly seen it all in its long life.
These texts are accompanied by an essay sharing the known facts, history and timeline of Suttons Manor, written by historian Judith Williams (Shoeburyness: A History, 2006; Voices of Shoeburyness, 2010) alongside stunning photographs of the Manor, taken in 2020 by Jonathan Juniper.